Celebrating 20 Years in serving the diplomatic missions, connecting international markets with Singapore since 1999.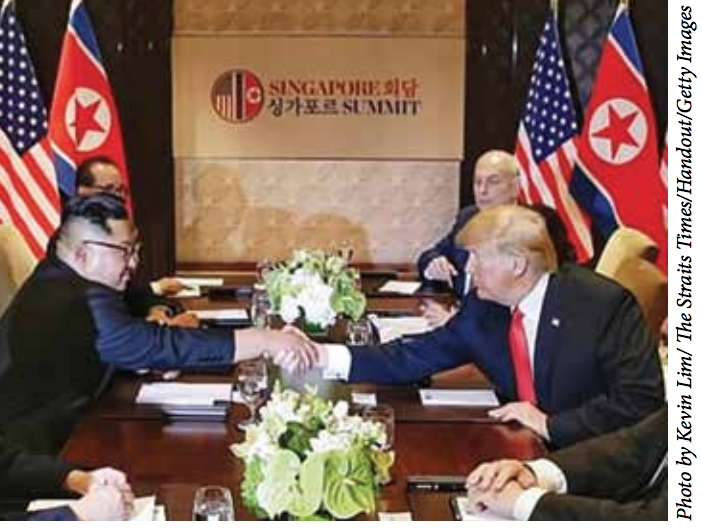 Singapore could not have had a more prominent place in the world's media spotlight than when the US and Democratic People's Republic of Korea decided to stage the historic meeting between President Donald Trump and Chairman Kim Jong Un in this 'Little Red Dot' which despite the country's small population I have heard many ambassadors say is still able to "punch above its weight" in regional and global affairs.
As far as the organisation of the event, efficiency and facilities were concerned, the country shone through brilliantly – bearing in mind that there was only a four-week window between the official announcement and the start of the event on 12th June 2018. Another clear winner was the diplomatic logistics which kicked into gear to ensure things went smoothly. Even the weather cooperated as the historic meeting was bathed in bright sunshine. It reflected everyone's hope that all the issues that have plagued the Korean peninsula will eventually be resolved through dialogues and negotiations.
Singapore played its part by providing a neutral platform and a positive setting for the beginnings of a historic process which has global ramifications.
Several months later the spotlight zoomed its lens once again upon the island republic – this time for hosting one of the largest (outside the UN) and most influential meetings of the year – the 33rd ASEAN Summit and Related Summits at Suntec City. Aside from the leaders of the 10 ASEAN countries – the roll call included the heads of state from Australia, China, India, Japan, Chile, New Zealand, Russia, United States, and South Korea. This was the final meeting for Singapore as Chair of ASEAN before it handed it over to Thailand. Singapore was commended by many leaders for its stewardship as the Chair for the past year. Indeed, in an address to all the ASEAN leaders during the Summit's plenary session, Singapore's Prime Minister Lee Hsien Loong said that strengthening ASEAN is an ongoing, multi-year project that requires a forward-looking effort that "goes beyond national interests." At the end of the Summit, the Prime Minister was pleased to note the progress of Singapore's ASEAN Chairmanship and put on record his appreciation for the support shown by fellow ASEAN leaders as well as the grouping's external partners.
Just as Singapore has a foreign policy that is famous for aiming to be "a friend to all, but an enemy of none," in this issue of IN Diplomacy we offered foreign diplomatic missions a space to provide a round up of their activities as well as a section to describe what iconic products or services the country is famous for which can be popular back in their country or even here in Singapore.